---
---
Description
AV163 is 40dB super high power HD outdoor antenna, reception is equivalent to 24 element Yagi antenna. It's designed to receive UHF/VHF signals from fixed direction. Flat panel design makes it easy to install antenna anywhere around the building and keep it in low profile. Fixed direction antenna is suitable where transmitters of TV stations you want to watch are located in one direction.
CLICK HERE  to see if fixed direction antenna is suitable for your location.
** TV signal reception is immensely affected by the conditions such as antenna height, terrain, distance from broadcasting transmission antenna and output power of transmitter. Channels you can watch may vary depending on these conditions.
1. Super high gain HDTV signal reception
Frequency range: 
VHF: 87.5 ~ 230MHz
UHF: 470 ~ 862MHz
Gain: 40dB (built-in high gain low noise amplifier)
Reception range: 150 miles
Impedence: 75 Ohm
Noise margin: <3.5dB

2. Flat panel design blends in well with any building structure
Dimensions: 21.5 (H) x 10.5 (W) x 4.5" (D)
Weight: 5.8LBS
Antenna housing: ABS with anti-UV coating and waterproof

3. Versatile installation options
* No assembly required
* Vertually mountable to anywhere around the building.
* Easy installation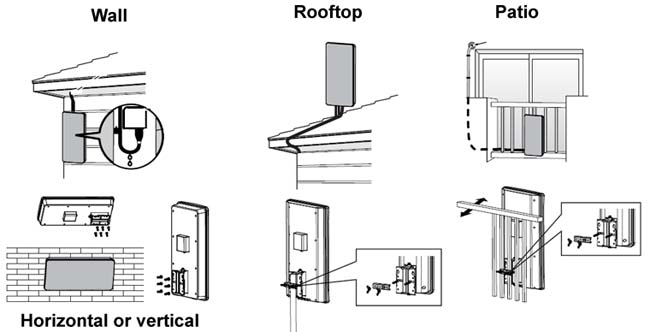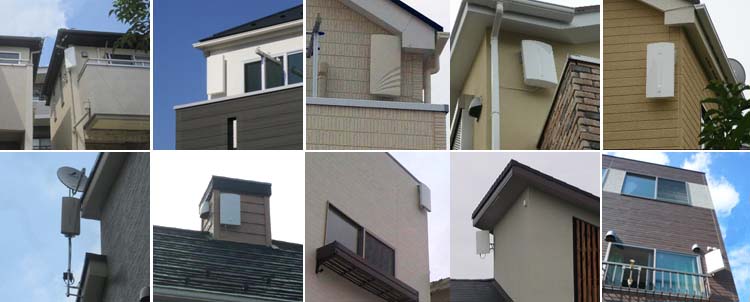 Kit content
* HDTV Antenna
* Mounting hardware
* Power adapter with 6Ft cord
* Power feeder with 2Ft cable
* Coax cable cap
** Coax cable from antenna to powewr feeder is NOT included **
---