---
---
Description
The new MacBook, MacBook Pro, and MacBook Air each have a Mini Display Port that allows you to connect an external display or projector using an adapter. You can use an external display as your main workspace or to extend your desktop, or you can work in mirrored mode with a projector so you can view what your audience sees.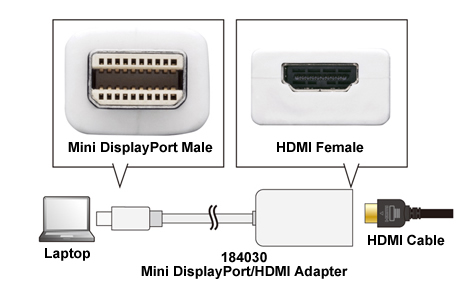 * Compliance with DisplayPort Specification V1.1a at 1.62/2.7Gbps data rate (Low bit rate/High bit rate)
* Protocol: Support DPCD Rev.1.1 & Support HDCP 1.3 with HDCP key embedded
* Resolution: up to 1920X1200 / 1080p
* Connector DP male to HDMI female
* Total Length: 6-3/4" (connector edge to edge)
* Connector housing dimensions: 
HDMI side: 1-3/4 (L) x 1 (W) x 5/8" (H)
DP side: 1(L) x 1/2 (W) x 3/4" (H)
* Cable length: 3-3/4"
* Gold plated connector
* Housing and cable color : White
---