---
---
Description
Network cable comes with different ratings, either 'CM', 'CMR' or 'CMP', as well as 'UL'. These cable rating codes mean that the cables meets different UL-NEC requirements based mostly on cable jacket quality concerning fire hazard.

CM: CM rated cables are used for general building wiring including residential installation. These cables are resistant to the spread of fire and pass the UL 1581 Vertical Tray Flame Test. When it's just called a patch cable or PVC jacket, it is typically CM rated jacket.

CMR: The 'R' in CRM is for 'Riser'. Riser type cables are engineered to prevent the spread of fire from floor to floor and are suitable for vertical shaft applications. 

CMP: The 'P' in CMP is for Plenum. Cables meeting type CMP requirements are suitable for installation in ducts and plenums without the use of conduit. These cables are designed for fire resistance and low-smoke and toxin producing characteristics. 

In general, fire resistance requirement becomes higher in this order; CM -> CMR -> CMP. CMP produces the least smoke and toxic fume when burnt.

Most commonly used patch cables are CM rated and suitable for general building installation. Our CMR series specifically uses CMR rated jacket for installations where higher fire resistance is required.
Designed for: Network Adapters, Hubs, Switches, Routers, DSL/Cable Modems, Patch Panels and other Computer Networking applications.
Conductor: 4-pair UTP (Unshielded Twist Pair) 24 AWG stranded pure copper
Connectors: RJ45 plug with 50 micron gold plating contacts
Jacket: CMR (Riser)
Certification: Compliant with TIA/EIA standard by UL and ETL; RoHS Compliant
Wiring: T568B standard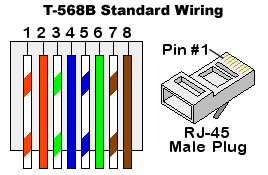 ---