---
---
Description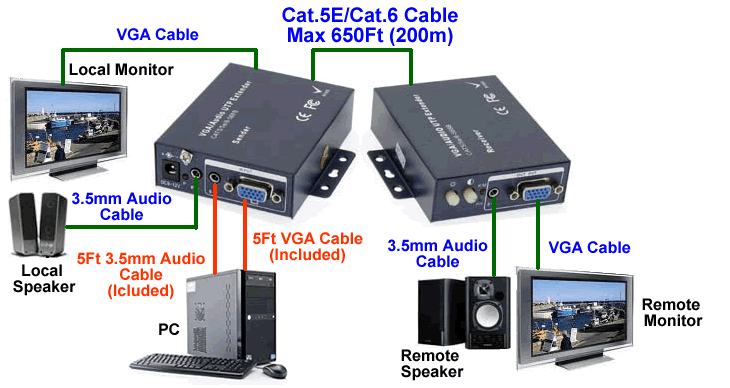 This VGA/Audio extender transmits VGA video and stereo audio signal up to 650 feet (200m) away from a computer using single CAT5E/6 Ethernet cable. 
Each video extender consists of a local unit that connects to a computer and also supplies video/audio to a local monitor/speaker, and a remote unit that connects to a monitor/speaker. 
Power supplies for both unit and 6Ft VGA cable and audio cable are included. 
* Pair of Transmitter with local video/audio output and Receiver
* Maximum distance: 650Ft (200m) via Cat.5E or Cat 6 single Ethernet cable
* Maximum resolution: 1920x1440
* Contrast and brightness control
* Metal case design

Product contents
1 -- Transmitter with local video/audio output
1 -- Receiver
2 -- power supply DC12V
1 -- 5Ft VGA male male cable
1 -- 5Ft 3.5mm audio cable
---