---
---
Description
This USB-C docking, with its multiple ports, allows you to connect a host PC to monitors or devices with HDMI and USB3.0 ports, and also allows your host PC to get access to fast network with its Gigabit Ethernet port. Besides, the SD/MMC and Micro SD card slot helps to access the external memory of the host PC and the USB-C female port can charge for the host computer.
Main Features:
* Support USB-C input, USB3.0 Output
* Support HDMI Female ,USB-C Female, USB 3.0 Female, Gigabit Ethernet, Stereo, SD Card, Micro DS Card, USB-C interface
* Support HDMI resolution up to 4kx2k@30Hz
* Support 10/100/1000Mbps bandwidth
* Stereo port supports both microphone and headphone
* Support to access memory
* USB-C female charging port for Macbook or Google new Chromebook Pixel and other USB-C supported devices.
* Multiple USB-C interfaces support plug and play, hot swap
* Support Secure Digital v3.0 UHS-I (Reading speed max 70Mbps, Writing speed max 90Mbps)
* Support Micro SD/SD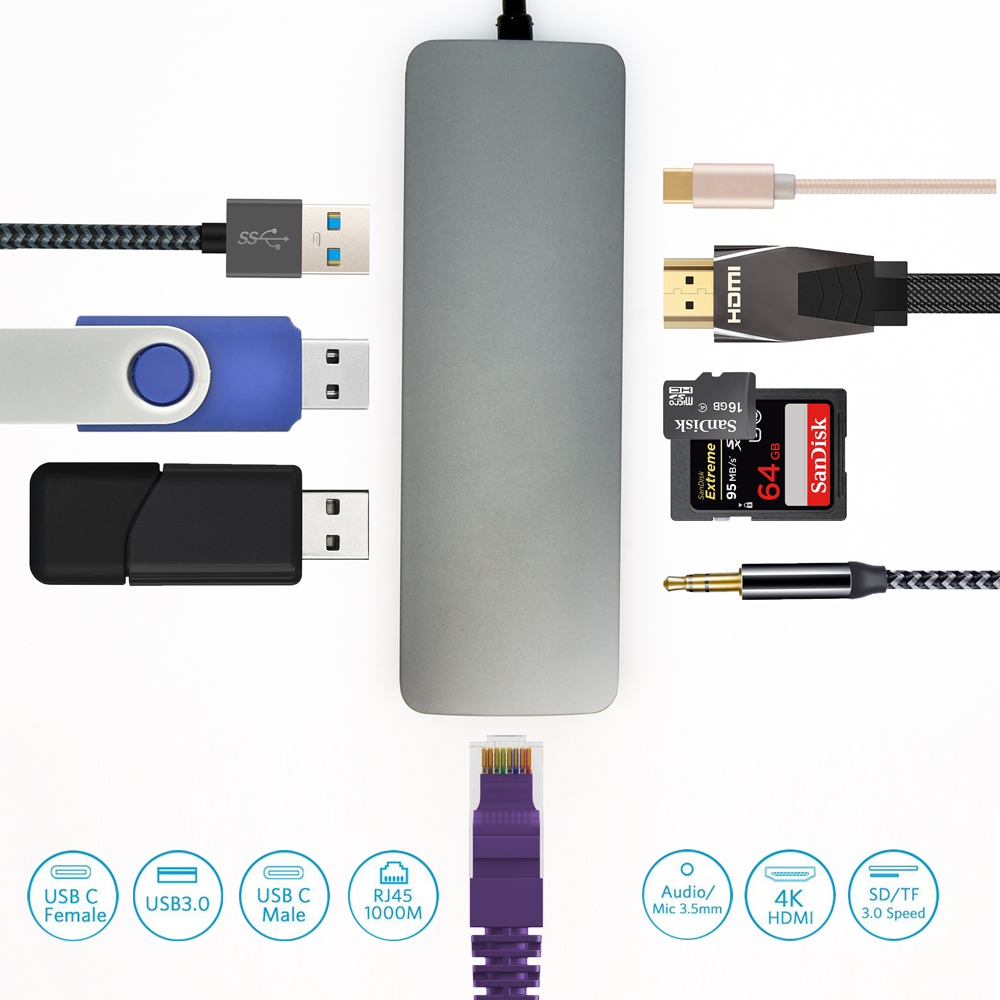 Specs;
* Input: USB-C Male x1, USB-C Female, x1 for charging
* Output: HDMI Female x1 , USB 3.0 Female x3, RJ45 X1, Stereo x1, SD card slot x1 , Micro SD card slot x1
Power Supply:
* USB-C PD Charging Port: Up to 60W(20V/3A)
* USB-A Port X3: 5V , 900mA, Max: (5V@1A)
*
Operating and compatibility details on users manual (download link above)
---